A walking group has launched a petition to challenge fresh plans to build a golf course within an space of sand dunes in the Scottish Highlands.
Ramblers Scotland said it is "shocked and very concerned" over the proposal to develop an 18-hole course at Coul Links close to Embo.
It said the plans would completely remodel the area, harm the natural panorama, and affect entry.
The group claim seven of the course's holes would also cross the John o' Groats Trail, which would make it hard for walkers and different visitors to keep away from interfering with play at busy times.
However, developer Communities for Coul (C4C) has said the golf course could "cease the damaging spiral of depopulation within the northern Highlands".
The not-for-profit company also cited a model new socio-economic report, claiming the course would generate round 400 jobs as quickly as absolutely established.
C4C is urging backers to write down a letter of support to Highland Council.
Image:
Ramblers Scotland is towards the proposal. Pic Ramblers Scotland/Andrew Weston
A related planning utility was blocked by the Scottish authorities following a public inquiry three years in the past.
At the time of the choice in February 2020, Scottish ministers stated the plan would have supported economic growth and rural development.
However, it was concluded that the dangerous impacts of the golf course on protected habitats and species outweighed the potential socio-economic advantages.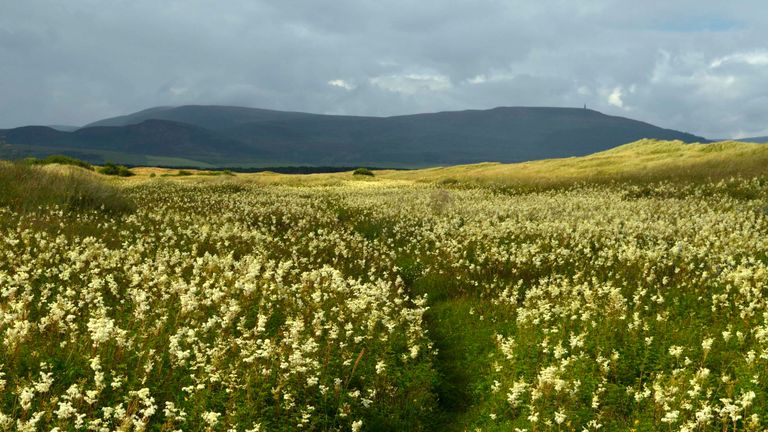 Image:
A Coul Links path through meadowsweet. Pic: Ramblers Scotland/Andrew Weston
Brendan Paddy, director of Ramblers Scotland, stated: "We are shocked and intensely involved that Coul Links is once more beneath menace, simply three years after a really related utility was rejected at public inquiry.
"I'm proud that 1000's of individuals inside Scotland's conservation and outdoor communities united with many locals to save Coul Links last time round.
"Sadly we should as soon as again ship out a transparent sign that the nation's best magnificence spots aren't up on the market to the very best bidder."
Click to subscribe to ClimateCast with Tom Heap wherever you get your podcasts
Sky News has contacted C4C for comment.
In a Facebook publish earlier this month, C4C mentioned the world is battling an invasive plant drawback.
A spokesperson mentioned: "People who oppose the golf course development deny invasive species are a major issue at Coul. This is just a misrepresentation of the details, as a walk over the links will easily set up."
Read more:
First electrical energy transmission tower eliminated as a part of project to boost scenery
St Andrews declares U-turn on Swilcan Bridge paving after backlash
C4C stated although NatureScot has a administration plan in place, the golf course developer is "committed" to offering the money wanted to combat the problem.
The spokesperson stated: "This is a man-made problem and as a community organisation, we believe we now have a accountability to manage our impacts.
"To restore Coul Links is a big and dear job, demanding expertise, folks, supplies, machinery, finance and a commitment over time. But this is the finest way to save the SSSI (Site of Special Scientific Interest) for our grandchildren."